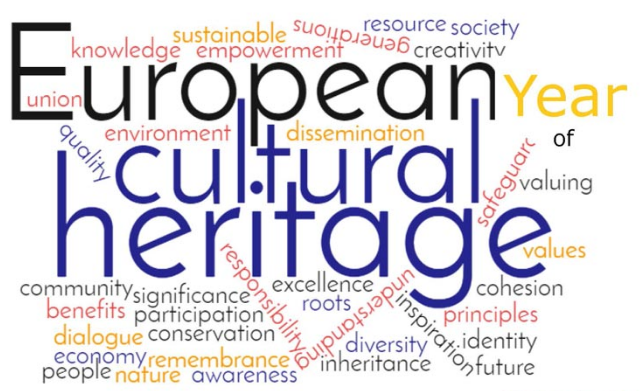 This page presents a list of research and policy references in the field of cultural heritage research and participatory approaches in culture and social innovation.
The documents listed here below can be searched also using the instruments on the right-side menu, i.e.: SEARCH that is a full-text search on any world contained in the document and DOCS BY DATE that gives access to the documents published in the selected month.
The following list of  documents is ordered by date of publication.
All
Dissemination Materials
Foresight Papers
Policy Documents
Research Documents
«Not a mere tangential outbreak»: gender, feminism and cultural heritage
10 European Initiatives of EYCH 2018
A New European Agenda for Culture
An attempt to create minority heritage: The history of the Rom Som club (Rom Som cigányklub) (1972–1980)
Ciencias Sociales y Humanidades Digitales Aplicadas
Connecting Cultures, Connected Citizens
Creative Europe Networks - 28 pan-European organisations connecting and strengthening Europe's cultural sectors
Culture for Cities and Regions
D1.6 Synthesis of theory, literature and existent data about factors configuring the values of culture in Europe
D5.6 Innovative access to content in education
Digital transformation in the time of COVID-19
Embedding Engagement Participatory Approaches to Cultural Heritage
European Policy Brief. Agrobiodiversity As Mediterranean Agrarian Heritage
European Policy Brief. Soil
European Policy Brief. Water
European Policy Brief. Co-creation strategies: from incidental to transformative
European Policy Brief. Digital Copyright Framework. The move from analogue to digital and new forms of IPR
European Policy Brief. European Minorities and Identity: strengthening relationships for a sense of belonging in the digital era
European Policy Brief. Food Heritage and Culture: Changing Spaces of Production and Consumption
European Policy Brief. RICHES Taxonomy of cultural heritage definitions
European Policy Brief. The Cultural Heritage Institution: Transformation and Change in a Digital Age
European Policy Brief. The Economic and Fiscal Dimension of Cultural Heritage
European Policy Brief. Towards a Craft Revival: Recalibrating Social, Cultural, Economic and Technological Dynamics
Europeana Innovation Agenda
Heritage Research Matters
Holding the Space: Choreography, Architecture and Urban Heritage
How culture and the arts can promote intercultural dialogue in the context of the migratory and refugee crisis
Implementation of Commission Recommendation on the digitisation and online accessibility of cultural material and digital preservation
Innovation in Cultural Heritage. Research for an integrated European Research Policy
JPI CH Strategic Research and Innovation Agenda 2020 and Annexes
Management of Puppetry Heritage in Chrudim
Mapping of Cultural Heritage actions in European Union policies, programmes and activities
Mapping the Creative Value Chains
Multaka: Museum as Meeting Point. Refugees as Guides in Berlin Museums
Museum of the Black Route, Porto Alegro
Opening conference of REACH Project
Participatory Governance of Cultural Heritage
Promoting access to culture via digital means: policies and strategies for audience development
REACH D3.1- Participatory Models
REACH D3.2-Selection of Projects and Mapping of Clustered Research Findings
REACH D3.3 Project evaluation report
REACH D4.2- Workshop results and lessons learnt
REACH D5.2- Minority heritage pilot results
REACH D5.3- Institutional heritage pilot results
REACH D5.4 - Rural heritage pilot results
REACH D6.2 - Good Practices of Social Participation in Cultural Heritage
REACH D6.4- Resilience and social innovation in cultural heritage: a collection of best practices
REACH D7.1. - REACH findings on resilient European Cultural Heritage
REACH D7.2. - REACH Sustainability plan
Recovering Traditional Irrigation Channels
RICHES D2.1 CH Definitions and Taxonomy
RICHES D2.2 Digital copyrights framework
RICHES D3.1 Transformantion, change and best practice for CH processes
RICHES D4.1 European identity, belonging and the role for digital CH
RICHES D4.2 Good practices and methods for co-creation
RICHES D4.3 Structures for community and territorial cohesion
RICHES D5.1 The Use of Craft Skills in New Contexts
RICHES D5.2 Place-making, promotion and commodification of CH resources
RICHES D5.4 CH Best Practice in the Digital Economy
RICHES D6.1 Access, Participation, Learning: Digital strategies for audience engagement with cultural heritage in museums and libraries
RICHES D7.2 Online resources for living heritage
RICHES flyer: Co-creation
RICHES flyer: digital libraries, collections, exhinitions and users.
RICHES flyer: Economics of Culture
RICHES flyer: Food and Cultural Heritage in the Urban Age: the role of local food movements
RICHES flyer: Intellectual Property Rights Strategy
RICHES Think Paper 01. Copyright and Cultural Heritage: Developing a Vision for the Future
RICHES Think Paper 02. New Forms of Artistic Performances and the Future of Cultural Heritage
RICHES Think Paper 03. Cultural Heritage Festivals: Belonging, Sense of Place and Identity
RICHES Think Paper 04. Digital Technologies: Re-thinking Turkish Libraries in an Information Society
RICHES Think Paper 05. Digital heritage: intellectual rights, democracy and commoditisation of cultural heritage places
RICHES Think Paper 06. Museum education with digital technologies: participation and lifelong learning
RICHES Think Paper 07. Public-Private Partnerships for Cultural Heritage: Opportunities, Challenges, Future Steps
RICHES Think Paper 08. Cultural Heritage as fuel for innovation: enabling the power of creation
Roadmap for Citizens Researchers in the Age of Digital Culture
Selection of Projects and Mapping of Clustered Research Findings
The Berlin call to action. Cultural heritage for the future of Europe
The creation of resilient Roma cultural heritage. Case study of a bottom-up initiative from North-Eastern Hungary
The European Cultural Heritage Strategy for the 21st century
The European Year of Cultural Heritage (2018). Decision of the European Parliament and of the Council
The legal framework of cultural landscapes in Andalusia (Spain): limits and possibilities of public participation from an archaeological perspective
The role of public policies in developing entrepreneurial and innovation potential of the cultural and creative sectors
The Strategic Use of Heritage Representations:The Small Towns of Podlasie Province
Towards an EU strategy for international cultural relations. Joint communication to the European Parliament and the Council.
Umm-el-Jimal Women's Empowerment Project
UNCHARTED D1.3 Analysis of the influence of globalization and digitization in the configuration of the values of culture
UNCHARTED D1.4 Analysis of the influence of neo-liberalism in the configuration of the values of culture
UNCHARTED D1.5 Analysis of the European historical and political experience in acknowledging and promoting the values of culture
UNCHARTED D1.1 Analysis of the influence of gender and rising diversity in the configuration of the values of culture
UNCHARTED D1.2 Analysis of the influence of urbanisation and social and spatial segregation in cities in the configuration of the values of culture