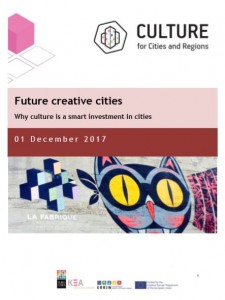 Title
Future creative cities – Why culture is a smart local investment – report from Culture for Cities and Regions
Creator
Culture for Cities and Regions(SPK)
Contributor
–
Subject
Local cultural policies
Description
The Culture for Cities and Regions new report reflects on innovative local cultural policies and sets out a vision for the future of cultural and creative place-making at local and regional levels.
It stems from three year of peer learning activities involving above 150 cities and regions as part of Culture for Cities and Regions, a €1M initiative by the European Commission fully funded by Creative Europe between 2015 and 2017.
The report presents concrete examples aiming to tackle key cultural challenges at local level. These include: facing the demographic challenge; empowering audience; and developing better partnerships between local administrations and cultural and creative spaces.
Publisher
Culture for Cities and Regions
Date
December 2017
Type
Report
Format
PDF, 1.59 Mb
Source
–
Language
English
Rights Management
© 2015 Eurocities. All rights reserved.